Monday
That was a mouthful wasn't it?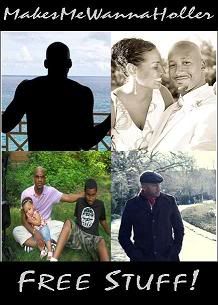 I've never had a problem giving gifts to my mother on Mother's Day, but I've always struggled with the mother who sleeps beside me. During my first Mother's Day with her, when we were just girlfriend and boyfriend, she asked me what I'd be getting her for Mother's Day.

I blankly replied, "You're not my mother."

She was speechless. It actually took me a minute to realize that mother's who didn't birth you expect gifts from you (not the kids) for the children they birth because of you. I haven't done so well in this department during the years I've known my wife. And just like they say about those who can't being great teachers, I'd like to make the life of one lucky person a little easier.

Announcing the MakesMeWannaHoller Happy Mother's Day $50 Gift Card Giveaway. I've decided to throw my hat into the blogger-contest bandwagon (something I swore I would never do) and offer a $50 Amazon.com Gift Card to one (1) winner for use towards your gift the moms you love: the one that made you and/or the one that made your kids, or whatever you want. Amazon.com gift cards can be used at Amazon.com (obviously) and at Endless.com (not so obvious), their online shoe source. Endless.com is a place where you can buy shoes, bags, and all other kids of accessories women like.

So how does someone enter this contest?

The Rules (you can do any one or all of the following):

Subscribe to this blog. Then let me know by leaving a comment on this post.

Add me to your blogroll. Then let me know here in the comments section of this post.

Grab my badge or the contest button (a smaller version of the graphic above) and place it on your site. Then let me know your website in the comments section of this post. Remember, your comment is your entry. Here's the code for the contest button:


Follow me via Google FriendConnect in the far right hand column of this page. Let me know in the comments section of this post. Remember, your comment is your entry.
If you've already done 1-6 or even if you haven't, you can Tweet Me! Follow me on Twitter and/or Twitter about this post (up to 4 times max on separate days during the duration of the contest). Let me know by leaving your Twitter URL in the comments section below (if you follow or each time you Tweet). Remember, your comment is your entry.


At the very least you can submit one (1) entry to this contest and at the max, nine (9) entries. The more the merrier!

This contest begins April 13, 2009 and will end April 24, 2009 at 11:59 pm. The winner will be drawn at random and announced on Monday, April 27, 2009. Please make sure to visit MakesMeWannaHoller on this date. You will have exactly 24 hours to redeem your prize. Should this not occur, I'll have another drawing and will announce a new winner (who will also have 24 hours to respond) and so on.

The MMWH Happy Mother's Day $50 Giftcard Giveaway is open to US residents 18 years and older. Must have a valid, working email address to participate. Promotion is void where prohibited.

Good Luck!





PS - Please limit your comments on this post to entries only, thank you. All others will be deleted at the discretion of the administrator (me).


PPS - This contest is OVER. No more entries are being taken. Thanks to all who participated. Check back on Monday, 4/27 for the winner.

Subscribe To Makes Me Wanna Holler

Posted by

E.Payne
Read more about: Contests, Mother's Day