Wednesday
I've decided to take a break from my usual Wednesday Question of the Week.

For those of you who are looking for something special to buy the mother (yours and/or the mother of your child/children) in your life (Mother's Day is around the corner); for those of you who need to buy something for the woman in your life to celebrate whatever special occasion needs to be celebrated; for those of you who typically don't buy [insert bad word] for your friends, lover(s) or family and need to start; or maybe you've been wracking your brains trying to figure out the perfect birthday gift for the friend you believe has it all and is impossible to shop for.

Look no further. Welcome to Tara Payne's only jewelry store: Jewelry for the Fashionable (excuse the redundancy). Yeah, we're related...she's my sister-in-law (remember my wife and I met because we have the same last name). But as a native of Chicago and its politics, I'm allergic to nepotism having witnessed so much of it growing up. I'm showcasing this woman and her collection of handmade jewelry because like myself, Tara's dreams don't exist inside a traditional office. She gives birth to beautiful things for others to appreciate and hold onto (and buy). Below is a screenshot of her store. Click on it and you'll land at her homepage.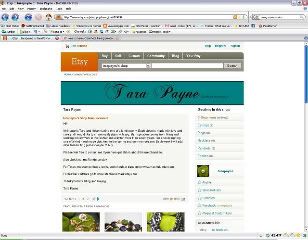 Tara has serious fashion background and she can make a shirt better than Gordon Gartrelle any day of the week. She has graced the offices of Abercrombie & Fitch and Polo-Ralph Lauren, to name a few. The girl can draw her whosiewhatsit off and the jewelry she makes BY HAND is in a word: incredible. My personal favorite is a piece she'll never sell --- a charm bracelet she wears that stretches halfway up her right arm from her wrist. The thing looks like it weighs 30 pounds and I believe I've only seen her without once.

Check out her store and shop. She's just that good. She doesn't even know I'm featuring her today, so there's no kickback to me.

Subscribe To Makes Me Wanna Holler

Posted by

E.Payne
Read more about: People I Know, Women